Who we are
Root Music was formed in 2011 by Jeremy Davies, an experienced and dynamic producer and arts manager working across the arts and creative industries.
With a track record of successful work nationally and internationally including festivals, tours, special events and community projects, we have developed and maintained a unique position in the industry.
We create new projects with high profile artists from around the world and at the same time continue to support the development of new and emerging arts organisations and individuals.
What we do
At Root Music we are just as at home working on community projects as we are with international groups and artists and have wide ranging experience, managing and mentoring individuals, project staff, volunteers and providing leadership. We specialise in developing partnerships with a wide range of organisations and individuals.
We have a successful track record of undertaking research, developing new projects and reports and fundraising for arts and creative industries. Jeremy has raised in excess of £3m for projects, SME's, community organisations, emerging artists and individuals from sources ranging from Arts Council England to the EU Cultural Fund, Youth Music to the Learning Skills Council.
Producer
Root Music produces and promotes tours across the UK and beyond and is currently supported by Arts Council England to work with a group of venues across the UK to build new audiences for touring work. As well as touring some of the best new national and international artists Root Music produces collaborations and new commissions. Look out for 'Tubular Brass in 2016.
Projects and consultancies
Root Music has worked as consultant for organisations across the UK. We are currently working with:
Ribble Valley Jazz Festival
We have helped to create a plan and vision to support the future development of the festival and other regular monthly events. The festival is emerging as an important high quality event for the region, programming some of the best national and international artists as well as supporting local talent and new work. Find out more here:
www.rvjazzandblues.co.uk
The Old Fire Station Carlisle
We are programming a number of music events to support the opening of this fantastic new venue in Carlisle. The Old Fire Station is a brand new arts venue developed and managed by Carlisle City Council that will be presenting a varied programme of music, theatre, dance, poetry and more.
www.oldfirestation.carlisle.city
Afrinaisance
In partnership with promoters Afrinaisance we are helping to tour the best new reggae artists to the UK. Recent tours have included Jesse Royal, Young Warrior and the mighty Suns of Dub.
www.sunsofdub.com
Jason Singh, Jazz North and Holmfirth Arts Festival
Root Music works with Jazz North to deliver the 'Jazz in Outdoor and Unusual Spaces' programme. The latest project features vocal sculptor Jason Singh, visual artist Fabric Lenny and fire artists pa BOOM, who together have created 'Fire Sounds and Shadows' to be seen once only at 10pm on Saturday 20th June.
www.holmfirthartsfestival.co.uk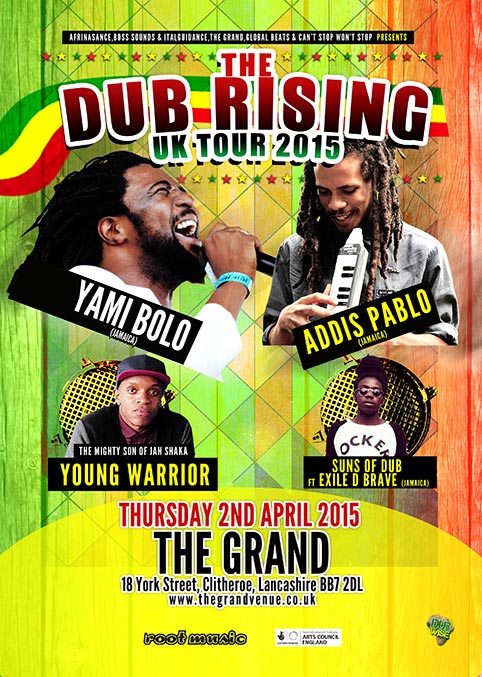 International
Root Music has friends and partners across the world. There are plans for a number of new international projects and events in 2016. One project that has taken Root Music, fellow musicians and friends to Europe and beyond is Aftershock. More about that below. There are plans to take Aftershock to India in 2016.
Aftershock
Aftershock is a 7-10 day festival of music, film, multi-media and discussion. It incorporates club nights, concerts, screenings and an intensive workshop programme that connects to and reflects the musical and artistic hub of the city. The workshop programme focuses entirely on the creation and performance of new music and is a valuable professional development opportunity for the music creators involved.  Aftershock is devised by the producers Jeremy Davies and Debra King and artistically directed by Nitin Sawhney
Aftershock has taken place across the world with events in Australia, Italy, France and Germany. In the UK it has happened at London's Southbank, The Sage Gateshead as well as in Manchester and Bristol. 
I cannot begin to thank you enough for choosing me to be part of After shock in Genoa. I feel so very positive about After shock and what it has done for me personally.  I honestly didn't feel that I would have connected with the people I met quite as deeply as I have and the whole experience has made me more open to new ideas and inspiration. I think what you guys and Nitin are doing is fantastic and again, Thank you.  Fyza
Check out this short film of Aftershock in Australia as part of The Melbourne International Festival.
Interested in an Aftershock event in your city? Contact Root Music HERE

Aftershock Melbourne from Jeremy Davies on Vimeo.
The Aftershock Project led by Nitin sawhney took place in Melbourne as part of Melbourne International Arts Festival. This 5 minute film tells the story
What people have to say about us
The Unthanks gig with Brighouse and Rastrick Brass Band couldn't have been more of a celebration of northern culture with Northumberland's most acclaimed folk ensemble and Yorkshire's finest brass players in the greatest cathedral in the land.
Some past events
Take a peek at some of our previous events.